9 Classic St. Louis Foods — And Where to Eat Them | City Guide | St. Louis | St. Louis News and Events
If this is your first time to visit St. Louis, you'll be surprised to find that in addition to its own pizza style, the Gateway City has a host of other foods that you simply cannot find outside the subway area. Toasted ravioli, sticky butter cake, and even the St. Paul sandwich are pretty much all St. Louis stuff – and they're all delicious.
Here are nine signature St. Louis dishes, plus the best place in town to enjoy each one. Happy food!
Sticky butter cake
Legend has it that a sticky butter cake was made because a baker made the mistake of accidentally doubling the butter in a yellow cake recipe. It may have been unintentional, but the sticky result has become the defining dessert of St. Louis. Enjoy either the classic version or one of a variety of flavors (including chocolate chips and raspberry) at the St. Louis Temple to bake butter cakes at Gooey Louie (6483 Chippewa Street; 314-352-2253).
Toasted ravioli
It's hard to see why such perfect finger food didn't make a splash outside of Gateway City, but toasted ravioli remains a St. Louis-focused dish for now. The best version of the gold-fried meat-filled pillows can be found in a place where they're made from scratch, like Lombardo's Trattoria (201 S. 20th Street; 314-621-0266). In this classic St. Louis location, the T-Ravs are shaped like crescents. They're also some of the best in town.
St. Louis style pizza
Unless you're a native of St. Louis, you'll likely find a raised eyebrow in greeting for the city's popular thin pizza. Break your locked-in certainty about what pizza should be and indulge this melted, thin-crust beauty at a classic corner shop like Frank & Helen's Pizzeria (8111 Olive Street Road, University City; 314-997-0666 ). . At Frank & Helen's, if you're not ready to try the signature Provel stuck to the roof of your mouth, you can buy the version with the exercise wheels made with good ol 'mozzarella.
click to enlarge
Slinger
A hamburger with eggs, hash browns, chilli and cheese may sound like a bad decision, but it is tailor-made for the next morning. Head to the town's signature greasy spoon Eat-Rite Diner (622 Chouteau Avenue; 314-621-9621) at 3 a.m. and you won't be the only cloudy-eyed patron who tries the booze with this hearty local afterward Favorites soak up a night of drinking.
concrete
No, this delicacy has nothing to do with plasters. The frozen custard dessert gets its name from a texture so thick that you can turn it upside down after serving, and not a drop will drip out – if done right. Visit the city's most popular ice rink, the legendary Ted Drewes Frozen Custard (6726 Chippewa Street; 314-481-2652). Yes there will be a line. But you will be amazed at how fast it moves.
Pork steak
This marbled piece of pork shoulder is a South City barbeque staple and defines the St. Louis style grill. The pork is smothered in a spicy tomato-based sauce that is usually mixed with beer as well as paired with a Bud Heavy. For 30 minutes east of town, check out Belleville's premier smokehouse, Beast Craft BBQ (20 S Belt W, Belleville, Illinois; 618-257-9000). Or stay home on this side of the river and fill yourself up with the massive Joe's Backyard Pork Steak at Gamlin Whiskey House (236 N. Euclid Avenue, 314-875-9500) – unless you can get an invite too Got a washing game in someone's backyard.
St. Paul Sandwich
Don't let the name fool you: this simple egg sandwich is a St. Louis original, not the Twin Cities. Curl up in one of the city's hole-in-the-wall chops and try the simple sandwich: a young patty with pickles, white onions, iceberg lettuce, and mayonnaise. If they serve it to you on something fancier than white bread, you haven't got the original, although the Rice House (8438 N. Lindbergh Boulevard, Florissant; 314-837-0711) makes a good case for more haute versions.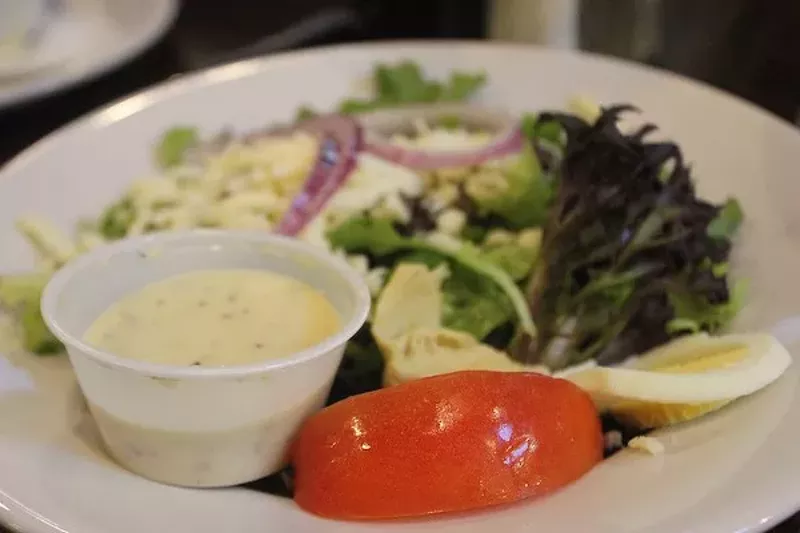 Mayfair dressing
The famous downtown Mayfair Hotel may have come and gone, but the salad dressing made in its five-star restaurant is a St. Louis tradition. Enjoy this rich, anchovy-laden cousin of Caesar on the Circa STL, food-themed St. Louis (1090 Old Des Peres Road, Des Peres; 314-394-1196).
Gerber sandwich
What's better than cheesy garlic bread? Naturally cheesy garlic bread with ham. This open-faced sandwich is a mix of sandwiches, provel cheese, ham, and a pepper garnish. Pair it with a local craft beer at Gramophone (4243 Manchester Avenue, 314-531-5700) for a real taste of Gateway City.