Chuck's Missouri Adventure: St. Louis Gateway Arch, City Museum and The Hill
The building with the bus on the roof changed the St. Louis skyline forever, but it's the inside that changes the perspectives on what a museum can be.
ST. LOUIS – For the latest Chuck's Big Adventure, we traveled to Missouri to take a journey from the curiosities of big cities to historic sites and show us the magnificence of nature's creativity.
RELATED: SNEAK PEEK: Chuck's Big Adventure Goes to Missouri!
city ​​Museum
Pass the iconic Gateway Arch in St. Louis and the skyline looks almost like that of a Midwestern city. That is, until you reach the corner of 750 North 16th Street. No, your eyes don't fool you. That's a school bus that towers from the side of the roof, and at another end, yes, that's a ferris wheel that also drives with passengers on the roof.
The City Museum is possibly the most unusual collection of weirdos in the United States. This 100 year old building hosts unexpected events every day, from local art to rare finds in the city. Artists have used almost everything available for miles of slides, tunnels, and bridges. From large galleries to dark hallways, this is a place to explore.
Bob and Gail Cassilly bought the former shoe company's 10-story warehouse in downtown St. Louis and began remodeling it in the early 1990s. This transformation has never stopped.
Stephanie VonDrasek has worked at the museum for decades and agrees that it's eclectic, thought-provoking, and well … weird.
"It's really unique, but honestly I think what probably appeals to people the most is that all you are allowed to do is have a sense of exploration, and your experience is not directed at all. We just want you to come and Come play along and let yourself be influenced by how it will affect you, "VonDrasek said.
For kids there is climbing, touching and seeing things that are not available anywhere else. On one floor, a child can see the largest pencil in the world and then climb one floor down through a replica of one of Missouri's many caves.
Stephanie says prepare yourself and your mind when you pay a visit.
"Be open-minded first and come here in tennis shoes, long pants if you can, knee pads we sell in the gift shop, but knee pads are really handy, flashlights because there can be dark spots and dark tunnels and so on, and you know that little ones, or even some of us bigger ones, aren't that crazy about the dark, so there are some practical considerations like these that come in handy, "VonDrasek said.
Clear your schedule and thoughts when visiting the city museum.
COVID-19 is aware that this is a high touch and high usage place. There are considerations regarding the wearing of masks, up to and including the frequent disinfection of the exhibits. There are also many hand sanitizing stations on each floor.
St. Louis City Museum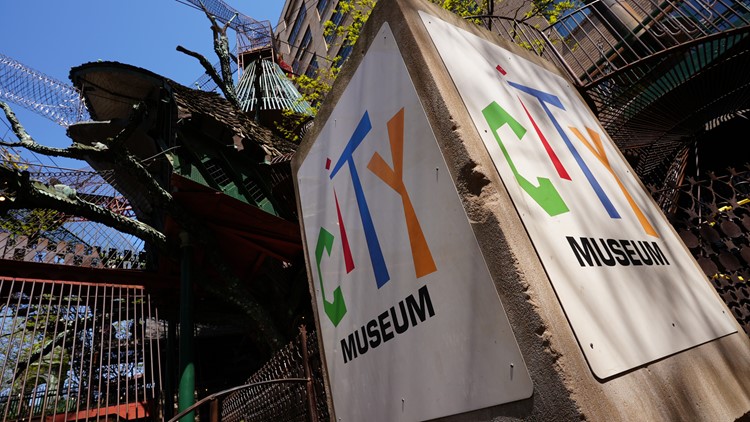 Founder Bob Cassilly died 10 years ago, but his vision of an ever changing, always expressive building has not changed. Whether you're exploring the insides of a bank vault, snapping photos of a hippopotamus family exhibit, or tackling the MonstroCity climbing tunnels, this celebration of the weird is a St. Louis stop that you may or may not enjoy, but never to be forgotten.
Yes, the building with the bus on the roof changed the St. Louis skyline forever, but the inside will change perspectives on what a museum can be.
The hill
St. Louis and I have a love-hate relationship. I'm a die-hard Cubs fan so the Cardinals are a team that I don't like and that I haven't liked for decades. That's the hate part.
The love part is these special neighborhoods of this truly unique city. One of those areas that I particularly like is the Italian bastion of food, faith and community simply called The Hill.
The neighborhood's Italian flair began in this small area west of downtown St. Louis in the early 20th century. Immigrants from Sicily, Ireland, and Germany have also settled here, but it's the Italian bakeries, restaurants, and shops that make this place a must-see for any tourist. A few years ago my niece Katie, her husband Matt, and I had a delicious lunch at a Hill restaurant and I insisted our Chuck's Big Adventure team stop here in town.
Our stop was Favazza's, where owner Mark Favazza celebrated the 43rd birthday of his restaurant during our stay. There are several Italian restaurants a few blocks apart, but Mark said that was a good thing.
"You'd think we'd all compete, but we don't. We all go to church together. I mean, I'll be in the same pew on Sunday mornings, in the same pew as me two other people, the restaurants and Own two rows in front of me are two other people who own markets and then we sit and talk afterwards. It's just that everyone is watching everyone, "Dea Hoover said.
She makes a living promoting this neighborhood and taking hurricane tours of St. Louis. She loves the fact that The Hill is a true community in every way.
"There are shops next to houses right next to businesses right next to houses. I live across from a restaurant and have 31 restaurants within a mile of my house, "said Hoover.
Our dinner at Favazza was excellent and from the loving preparation to the delightful presentation, this was an unforgettable night.
Don't leave St. Louis without a trip to The Hill. It's good food, good entertainment, and good memories.
Please note that most restaurants are closed on Sundays.
St. Louis Arch
Cross the Illinois to Missouri Bridge and there it stands, The Gateway To The West, St. Louis's Gateway Arch. Perhaps no monument in North America defines a city like the 630-foot Arch of St. Louis. Shining in the spring sun, this majestic stainless steel architectural masterpiece is a symbol of the strength, courage and peril of our nation's expansion westward.
It is the tallest arch in the world, the tallest man-made monument in the Western Hemisphere, and the tallest building in Missouri. Completed in 1965, the Arch still looks new and the museum below has had a new, tech-savvy and visitor-friendly facelift. Coupled with the new St. Louis-style restaurant, this updated facility has attracted thousands of new visitors, even in the COVID era.
I like coming here. In fact, my first visit here was 45 years ago and I was just excited to be here with our Chuck's Big Adventure team.
Chanda Powell, a National Park Service ranger, told me that at least a million people come here annually and now there's even more to see with the new look at the country's smallest national park. She says, "There have been a number of new additions to the Arch, like this space we have out here and the reflecting pool. Then when you walk in there is the new museum and it has kept expanding, the history of St . Louis. "The new exhibit features a timeline of technology that will give you an idea of ​​how our country's expansion beyond the Mississippi is forever changing us as a people.
How about COVID and your visit?
Six feet of social distance and masks are required inside the museum and arch, but not outside. Inside the arch, plexiglass partitions divide different viewing areas and there are plastic shields on the viewing areas.
We were lucky enough to be filming videos of a gateway helicopter outside. You can see this awesome look at our Chuck's Big Adventure video story on WTHR.com.
Whether you have been to the Arch many times or never, it is well worth paying a visit. The view of Illinois and 30 miles west of St. Louis is fun and unforgettable.