Fire Chicken Brings the Heat with a Twist on Korean Cuisine | Cafe | St. Louis | St. Louis News and Events
Michelle Baik knows her food is good. Since she and husband Min opened Fire Chicken last August, customers have gone out of their way to praise the couple and keep telling them how much they enjoy the restaurant's Korean-style chicken gangjung of the same name.
However, Michelle notices a recent interaction. A first-time visitor was so moved by the Baik's kitchen that he was forced to come back and tell her how much it meant to him. His praise had less to do with the food itself than with his appreciation for their willingness to give him a taste of their culture. "You show me who you are and that is really something special," the man said to Michelle. She was so touched by his words that she was moved to tears.
The comments of this overjoyed dinner are particularly poignant for the Baiks. They owned the St. Peters sushi spot Blue Sea for ten years and always dreamed of opening a restaurant that showcased the cuisine of their Korean homeland. They knew in their hearts that their food would be well received, but family circumstances prevented them from taking the plunge. Instead, they spent their days and nights cooking Japanese food and then left the restaurant business for a decade.
click to enlarge
Now, twenty years after their start on the Blue Sea, the Baiks are finally realizing their dream of bringing their unique take on Korean cuisine with Fire Chicken to St. Louis. Even though Min had developed the idea for decades, he got really serious about two years ago and started working out ideas on how to run the restaurant. The restaurant was designed in such a way that the COVID-19 pandemic turned life as we knew it upside down. It is ideally set up to dine in the current climate. Always imagining Fire Chicken as a delivery and transportation operation, Min relied on his and Michelle's experience of delivering food himself to ensure that his systems were set up to be friendly to this type of food. He and Michelle also take extra care to understand the pros and cons of each delivery platform they use, and work closely with drivers to ensure accuracy and timeliness.
Min spent just as much time developing his recipes, working with his family – and, as he laughs, struggling – to find the right flavors. Although he takes traditional Korean dishes as a starting point, he insists that Fire Chicken is not a traditional Korean restaurant. There is no kimchi on the menu or any of the other dishes you would normally find in a Korean place. Even the gangjung is different from what you usually find in Korea. There the dish is served at room temperature, while its version is fried and hot to order.
click to enlarge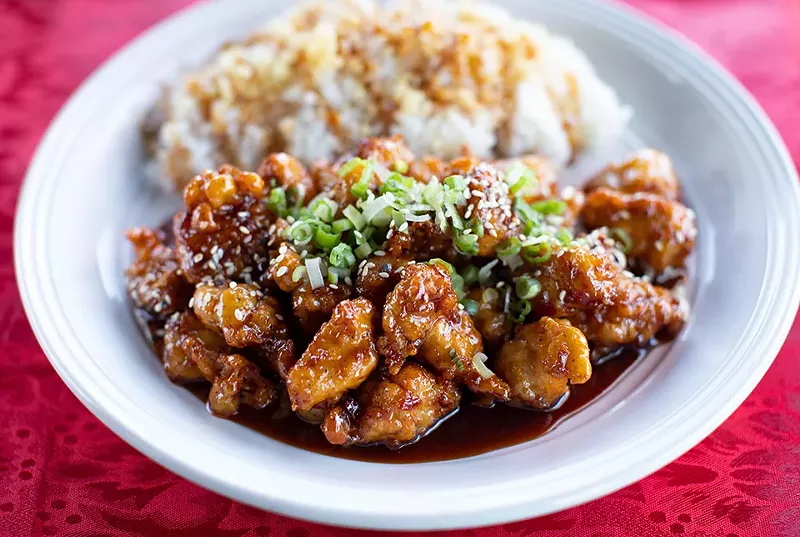 Min proves that breaking with tradition can have delicious results. The namesake Fire Chicken Gangjung is reminiscent of a hot braised chicken found in American-style Chinese restaurants. He combines breaded chicken nuggets that are fried to a delicious golden crunch with a blazing hot, sweet soy sauce glaze, which is mixed with red chillies and jalapeños. At its standard seasoning level, the chicken is fiery even for that heat lover. However, the layers of sweet, salt, spice and umami make it so aromatic that burning becomes an afterthought.
The Red Shrimp Gangjung isn't quite as hot as the Fire Chicken, but it still has remarkable red chili spices. The biggest difference isn't the heat, but the gochujang base which gives the dish a wonderfully funky backbeat. Equally impressive is the Teri Chicken Gangjung, a reef on the Teriyaki chicken that Min cooked at the Blue Sea, but much lighter and with a rather garlic taste of ginger. Usually this isn't a dish to get in my way because of the grocery store teriyaki sauce associations. I am glad I took the chance.
click to enlarge
Min's version of Bulgolgi beef is also quite different from my previous experience with the dish. The dish is more like a mix of sweet Korean-style soy marinade and Mongolian beef than what you'd find in a Korean grill restaurant. It's full of onions, carrots, and green beans, all of which are scented in a delicate ginger soy sauce. It's also the menu's best value; The serving is so large that it can easily feed four people – although it's so wonderful that you will find it difficult to share.
The ramen from Fire Chicken also break with tradition. The vegetable-based broth is hearty and smeared with oil, which gives the entire dish an intense soy-flavored richness that is more like a stew than a soup. It's unlike any other ramen, and once you have your head wrapped around it, it's absolutely delicious. The mild chicken full of zucchini, onions, carrots and cabbage is the hearty soup you dream of on a cold, bleak day. The vegetarian version, which is desired on a medium spice level, makes the mouth tingle with warm red chilli heat.
click to enlarge
The baiks offer a handful of starters, including a shrimp tempura with a butter-tasting batter, and mandu, a Korean fried dumpling with pork and vegetables. Of course, the couple wouldn't settle for just a simple mandu on the menu, but instead enlist the help of Michelle's sister to come up with a "popcorn" version of the dish. Here the dumplings are cut in half and covered with melted cheese and spicy mayonnaise. The result is a delicious preparation that reads like dumpling nachos.
Michelle says there's nothing quite like the Popcorn Mandu in Korea – or really any of the dishes they created for Fire Chicken. The fact that she and Min are able to play around with different dishes while also giving St. Louis a taste of their Korean heritage is their way of showing the city who they are, beyond the limits of expectations. Experiencing such a delicious exploration isn't just a godsend – it is enough to bring a tear to your eye.
click to enlarge