New Nine PBS cooking show features St. Louis' diverse food scene | Restaurants
Photo courtesy of Lasse Sorensen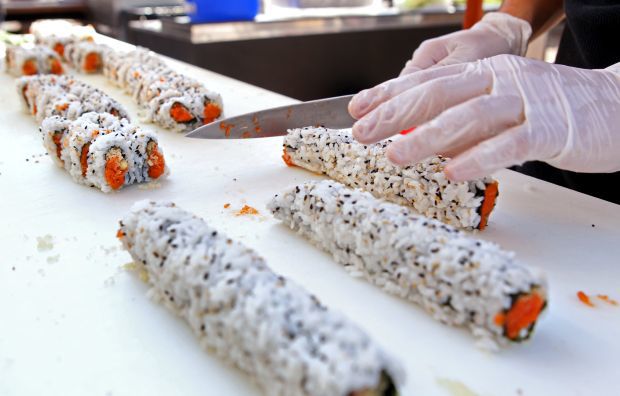 Kevin Insinna of Drunken Fish Slices spices up spicy tuna rolls at the Taste of St. Louis downtown in 2012.
St. Louis foodies can enjoy a new city dining adventure – for free and from the comfort of their own home.
Danish-American chef Lasse Sorensen will host a new series on Nine PBS on July 13th that explores the diversity of the St. Louis food scene through the roots of its cultural influences. In each episode, Sorensen, an immigrant from Denmark, spends time in the kitchens of some of the city's most famous restaurants to learn about the people behind the food.
"Food connects us all," he said, "no matter where we come from." He says the St. Louis dining scene rivals that of any major city in the country.
In the series premiere, Sorensen meets Munsok So, the owner of the sushi spot Drunken Fish. So, who also opened the Korean fried chicken company Kimchi Guys, talks about the changes in public awareness of food like kimchi and his experience as an immigrant from Korea in St. Louis.
The series is more than just recipes and tempting dishes.
"There's a lot of heart that goes into the food in these places," said Sorensen. Because of his kimchi curiosity, he shares a family dinner at So's Korean parents' house.
Sorensen opened his own gourmet restaurant Tom's Place in DeSoto, Illinois 22 years ago. After several years as a chef in LA, he followed his dream of owning his own restaurant. His wife Maryjane, who runs Tom's Place, is originally from the area.