Spray-paint artist shakes up Benton Park restaurant with Renaissance-like mural | Metro
Paco Rosic is working on a mural in an upcoming restaurant on 1900 Arsenal Street in St. Louis, Friday, April 14, 2017. Photo by Cristina M. Fletes, [email protected]
Paco Rosic is working on a mural in an upcoming restaurant on 1900 Arsenal Street in St. Louis, Thursday, April 13, 2017. Photo by Cristina M. Fletes, [email protected]
Paco Rosic is working on a mural in an upcoming restaurant on 1900 Arsenal Street in St. Louis, Thursday, April 13, 2017. Photo by Cristina M. Fletes, [email protected]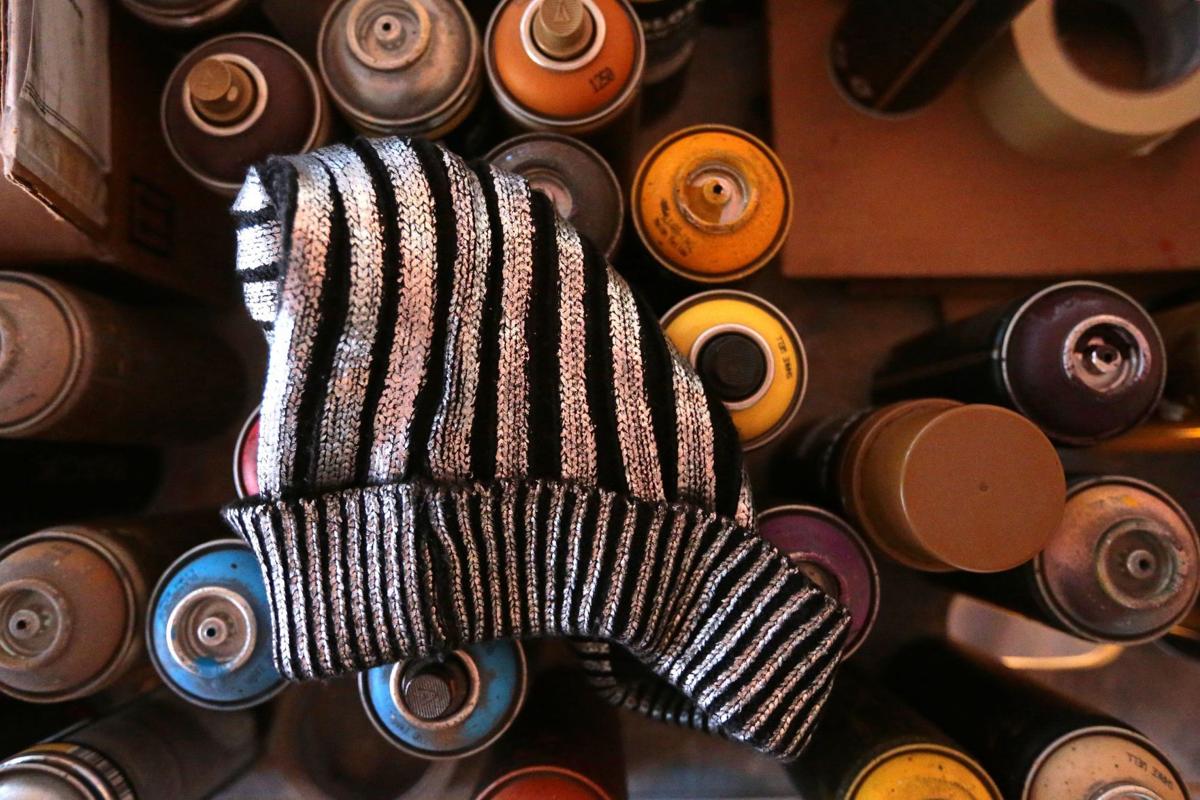 Paco Rosic's hat sits on bottles of spray paint as he works on a mural in an upcoming restaurant on 1900 Arsenal Street in St. Louis on Thursday, April 13, 2017. Photo by Cristina M. Fletes, [email protected]
Yaksap, the graffiti bandit who left marks on the sides of numerous St. Louis buildings that many consider annoying and illegal, could teach Paco Rosic a valuable lesson.
The 37-year-old Bosnian immigrant took his youthful love of graffiti far beyond the criminal marking of buildings. He has become famous for his meticulous and vibrant trompe l'oeil murals, made entirely from spray paint for public and private spaces.
Now he's in town, shaking it up with hundreds of cans of paint to create a mural celebrating the history of St. Louis on the ceiling of an upcoming restaurant in Benton Park.
Like any hardcore artist, he's a bit obsessed with it. He's set up an air mattress in the basement of the building on Arsenal Street and Lemp Avenue so he can paint whenever he wants. He has a wall on the lower level of the building dedicated to the rendering designs along with his massive graffiti lettering for inspiration.
"I can't stay in a hotel," he said on Thursday, wearing a full camo outfit and a black skull cap that was striped with ribbons of glittering silver thread. His necessary air mask hung on the nearby scaffolding.
"I am inspired. And when it hits me, it's usually around two or three in the morning. "
Rosic is a kind of folk hero in Waterloo, Iowa, where his family settled in 1997 when he was 18 after years of refugee status trying to escape persecution in his hometown of Sarajevo. His parents – his Catholic mother and Muslim father – fled to Germany in 1992 after living in a number of safe houses to survive. Even after the civil war in their homeland ended, the family knew there was no chance they would be readmitted because of religious persecution. When their asylum status was revoked after five years in Germany, the family uprooted again to America. It turned out that Waterloo was very welcome with the Bosnians.
In Iowa, after years of displacement, the family saved every penny of 10 years they worked at a Hy-Vee grocery store to buy a rundown building and open a restaurant.
The food at Galleria de Paco is fusion, but the ceiling is a sky-high renaissance because Rosic spent five months on scaffolding recreating a roughly half-size version of Michelangelo's Sistine Chapel ceiling in Krylon spray paint. Media from across the country have highlighted the mural. But even before this attention, Rosic made a name for himself.
He made his first mural when he was 14 and lived in the Sarajevo suburbs. As an impressive teenager, he established himself in graffiti art and breakdancing street culture in Germany. He was devastated when the family moved to Iowa and said he had fallen into a deep depression.
In his isolation he started doing graffiti art on Masonite boards because he couldn't afford canvas. Over time, it attracted the attention of art teachers at the local community college, and later the support of the city in creating murals on rundown buildings and other structures. But one of the more interesting connections he made early on was an art guide in Waterloo.
She loved his graffiti art and commissioned him to make two pieces for each of her teenage sons. He was paid $ 400 – a fortune for him at the time. One of their boys was Scott Scully, who now lives in St. Louis. He is a partner in the building at Arsenal where restaurateur Vito LaFata plans to open a casual Italian restaurant called Cafe Piazza this summer. Formerly the Benton Park Coffee Bar, it is across from Gus' Pretzels in Lemp.
LaFata told Scully he wanted something visually unique in the restaurant to stimulate conversation and relaxed social gatherings – in the spirit of an authentic old-school Italian cafe. Scully introduced him to Rosic.
Rosic has spent the last 3½ weeks scaffolding to spray his brilliant vision of St. Louis history. The mural, about three quarters complete, is in the style of Andrea Pozzo's Apotheosis of St. Ignatius. This series of trompe l'oeil frescoes, painted to fool the eye that the work is three dimensional, was made by Pozzo between 1688 and 1694.
Rosic's mural relies heavily on pillars to add dimensionality to the illusion. Stand in the middle of the restaurant and the pillars seem to rise skyward. Move to one end of the room and the pillars will flatten, but three Clydesdale horses appear to be breaking out from under an architectural arch.
Rosic's mural focuses on five eras in St. Louis history. Each is identified by a random floating page from a book and supplemented by landmarks and portraits of important places and characters.
The book pages are also an ode to Michelangelo, said Rosic. In the front corner of the restaurant, Rosic has carefully sprayed a replica of the Libyan Sibyl, one of Michelangelo's 12 prophets and sibyls contained in the Sistine Chapel. The Sibyl with the inscription "Libica" holds an open book behind her shoulder.
Rosic said the pages floating on the ceiling were from the book. "Visitors can piece the story together," he said, amid iconic images of places and people in St. Louis over time.
But to avoid mistaking the artist for too classic and too primitive, he said he was also inspired by another St. Louis landmark: the graffiti-laden flood wall along the Mississippi.
Get local news delivered to your inbox!