VEGAN TAQUERIA OPENS IN ST. LOUIS
By: Shriya Swaminathan
There's a new up and coming vegan hub and, surprisingly, it's the city of Provel cheese and frozen pudding! Known for local favorites that focus on animal-based foods, St. Louis is making strides to become a vegan-friendly destination with a brand new vegan taco spot! Terror Tacos was founded by brother duo bosses Bradley Roach and Brian Roash, who envisioned recreating vegan versions of childhood favorites.
Comforting bowl of pozole
Bradley Roach was previously the head chef and general manager at Seedz Cafe – another 100% vegan restaurant in St. Louis. After considering the idea of ​​opening their own restaurant, the brothers will realize this dream at the end of March 2021. The team will have a delicious selection of items such as tacos, burritos, nachos, taco salads, quesadillas and pozole. There's also the option for guests to customize their orders with a variety of salsas, cremas, oat-based cheese sauces, and of course guacamole among many others. Protein additives include textured vegetable protein (TVP), seitan (wheat gluten) or flavorful coriander-lime tofu. Patrons can expect flavored tempeh on the menu in the near future too!
Picture-perfect quesadilla!
The fun delicacies don't end here! Dessert lovers can indulge in the vegan Sopapilla from manager and baker Paige Dofing, which is dusted with cinnamon sugar and sprinkled with agave. A liquor license is in the works and the team is planning a lively cocktail bar that will attract the social crowds going forward. As the business expands, we can expect more innovative dishes with the familiar Southwest flavors that we know and love.
Taco Tuesday? More like tacos every day!
While Terror Tacos is currently only open for takeout, they hope to open around the corner for outdoor seating in warmer weather. Tacos and margaritas on the terrace – here we come!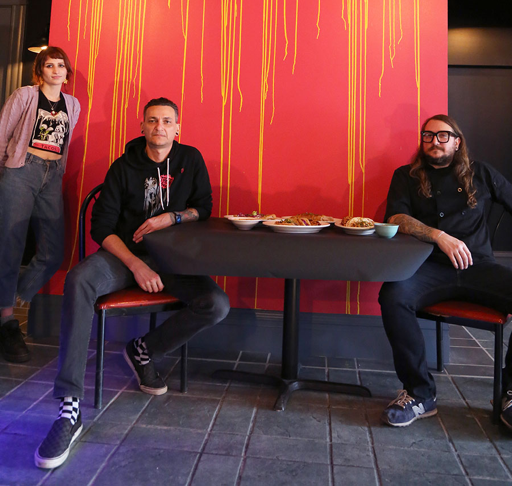 The power trio
Image Sources: Terror Tacos, Sauce Magazine